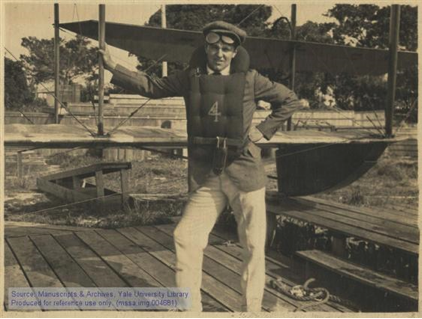 F. Trubee Davison '18 as Assistant Secretary of War at Bolling Field, July 1926.
[For a more recent history, check out THE HISTORY OF YALE AVIATION, INC. BY PAST PRESIDENT HANK GALPIN '67]
The origins of a flying club at Yale date back to 1910, and gained prestige in 1916, when an enterprising group of Yale undergraduates led by then-Yale sophomore F. Trubee Davison '18 formed the First Yale Unit, the first naval air reserve unit in American history. The intention of these wealthy young men (who were collectively dubbed in contemporary media reports as "The Millionaires' Unit") was to learn how to fly airplanes so as to develop America's military aviation. After securing authorization from the Admiral of the Navy, the members finished their training during the summer of 1916 and began their assignments as the country's first aerial coastal patrol. Thirteen days before the U.S. entered WWI in 1917, the 29 Yalies of the First Yale Unit volunteered for service. Though some perished overseas, others survived to attain notable positions in the military. Lt. David Ingalls '20 was the first naval aviator to become an ace; he later went on to become Assistant Secretary of the Navy. Members Robert Lovett '18 and Artemus "Di" Gates '18 became Commandant of the Army and Navy Air Corps, respectively. A full-length documentary film project detailing the rich history of Yale's first aviators is currently underway. See http://www.millionairesunit.org/ for more information.
From these noble beginnings grew Yale Aviation, as the club is now known. In 1964, the club was incorporated with the mission to educate Yale aviators in all aspects of flying, from piloting and navigation to meteorology, communications, and beyond.
Although non-military, several members have been military aviators. From Juan Trippe '20S, the founder of Pan American Airways, to Neal '57 and Linden Blue '58, of General Atomics fame, to Fred Smith '66, the founder of FedEx, Yale Aviation has produced aviators who revolutionized commercial and military flight.
Still going strong, the club currently has about 30 members, some of whom are Yale graduates, students, or employees. For more detail on the more recent history of the club since its incorporation in 1965, read the twelve-part history written by past-president Hank Galpin '67 here.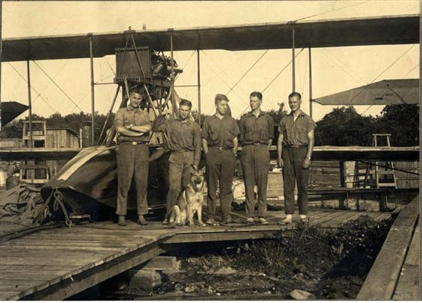 Five Men of Yale Aviation Unit plus dog standing with F-boat. c. 1918/1919.