"When once you have tasted flight, you will forever walk the earth with your eyes turned skyward, for there you have been, and there you will always long to return."
KHVN Weather Report via NOAA
The origins of Yale Aviation trace back to 1916, when a group of visionary Yale undergraduates established what would become the full enterprise of American military aviation. From such ambitious beginnings, the club has continued to the present day, furthering its mission of aviation education. Although Yale Aviation is now an independent organization with no formal ties to Yale University, its membership still includes some of the Yale community and their families.
Yale Aviation proudly owns two Piper Aircraft airplanes ideal for recreational use by members with private pilot certificates or higher. Based at the General Aviation Terminal of Tweed New Haven Airport, Yale Aviation airplanes can also be used to obtain basic flight training leading to a Private Pilot certificate, as well as more advanced training leading to an Instrument rating and Commercial certificate, all in keeping with their mission formulated in 1965. Flight training, if desired, is arranged with members who are Federal Aviation Administration (FAA)-certificated instructors, under the steady supervision of the club's Chief Pilot, Colonel Charles A. Skelton, USMCR (Retired), an FAA Wright Brothers Master Pilot and a Master Certified Flight Instructor.
Besides the privileges of on-going training and renting the airplanes, membership in Yale Aviation brings with it ample opportunities to participate in a wide variety of regularly scheduled events. From breakfast fly-ins to academic lectures of aeronautical interest to field trips to summer cocktail parties, Yale Aviation offers a range of fun and engaging social activities that bring together pilots of all levels.
To learn more about Yale Aviation,
please contact us at 203.772.8733 and leave a message.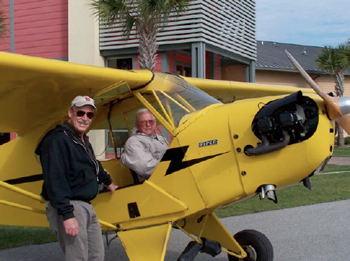 Meet our Chief Pilot Col. Charles Skelton
A nine-time Master and SAFE member, "Charlie", as he is affectionately known, recently renewed his Master CFII accreditation. He first earned this national professional accreditation in 1998, and he is one of only eight Connecticut aviation educators who have earned this prestigious "Master" title. Further, he is one of only 17 worldwide to earn the credential nine times. In the words of former FAA Administrator Marion Blakey, "The Master Instructor accreditation singles out the best that the right seat has to offer." Additionally, he is a recent recipient of the FAA's Wright Brothers Master Pilot Award and serves as a FAASTeam representative in the FAA's Windsor Locks FSDO area. More about Charlie here.